News
We always collect and report news all around and inside Graha Niaga to keep you update and get closer with us. To learn about us better, take a look at the articles below.
Graha Niaga : Salah satu gedung perkantoran yang diakui bagus kualitas desain dan strukturnya.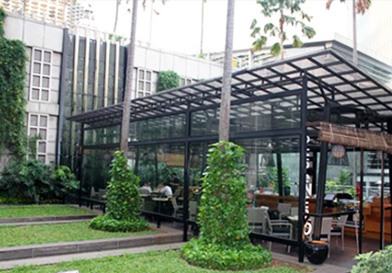 Tgl. 25 November 2010, Prof.DR.Ir. Wiratman Wangsadinata, seorang ahli dibidang struktur gedung tinggi, ahli gempa, ahli beton dan ahli jembatan meluncurkan bukunya : Momentum and Innovation 1960- 2010 di The Darmawangsa Hotel, Jakarta.
Dalam kesempatan itu beliau menyampaikan Public lecture ( Kuliah umum ) pra desian struktur Jembatan Gantung Ultra-Panjang untuk Jembatan Selat Sunda.
Dalam buku tersebut tercantum gedung Graha Niaga yang merupakan salah satu karya desain strukturnya yang inovatif yaitu :

1. Penggunaan prestress precast T-beam ( balok prategang bentuk T yang dibuat di pabrik secara masal dengan pengawasan ketat ) pada setiap lantai gedung menjadi suatu aplikasi yang efektif terhadap waktu, biaya dan sekaligus membuat gedung ini berkualitas sangat baik.

2. Penggunaan soldier piles (agar pada saat penggalian basement tidak terjadi tanah luruh) yaitu struktur dinding penahan tanah berupa tiang-tiang bor yang dibuat berbaris seperti serdadu. Diantara soldier piles dicor semen bentonite secara berselang-seling untuk mencegah bocornya air tanah kedalam basement.

Selanjutnya, kedua teknologi diatas menjadi komponen dalam mendesian struktur dibeberapa gedung dan bangunan lain di Indonesia.