News
We always collect and report news all around and inside Graha Niaga to keep you update and get closer with us. To learn about us better, take a look at the articles below.
Sertifikasi ISO 9001: 2015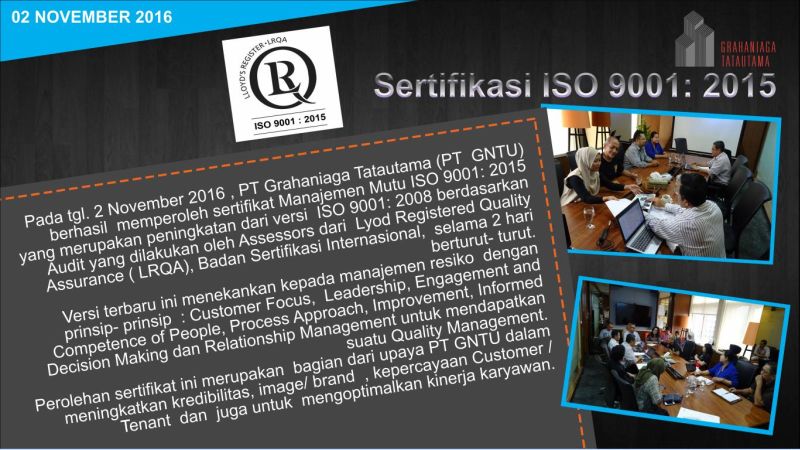 Pada tgl. 2 November 2016 , PT Grahaniaga Tatautama (PT GNTU) berhasil memperoleh sertifikat Manajemen Mutu ISO 9001: 2015 yang merupakan peningkatan dari versi ISO 9001: 2008 berdasarkan Audit yang dilakukan oleh Assessors dari Lyod Registered Quality Assurance ( LRQA), Badan Sertifikasi Internasional, selama 2 hari berturut- turut.
Versi terbaru ini menekankan kepada manajemen resiko dengan prinsip- prinsip : Customer Focus, Leadership, Engagement and Competence of People, Process Approach, Improvement, Informed Decision Making dan Relationship Management untuk mendapatkan suatu Quality Management.
Perolehan sertifikat ini merupakan bagian dari upaya PT GNTU dalam meningkatkan kredibilitas, image/ brand , kepercayaan Customer / Tenant dan juga untuk mengoptimalkan kinerja karyawan.