News
We always collect and report news all around and inside Graha Niaga to keep you update and get closer with us. To learn about us better, take a look at the articles below.
Kegiatan Fire Drill 2016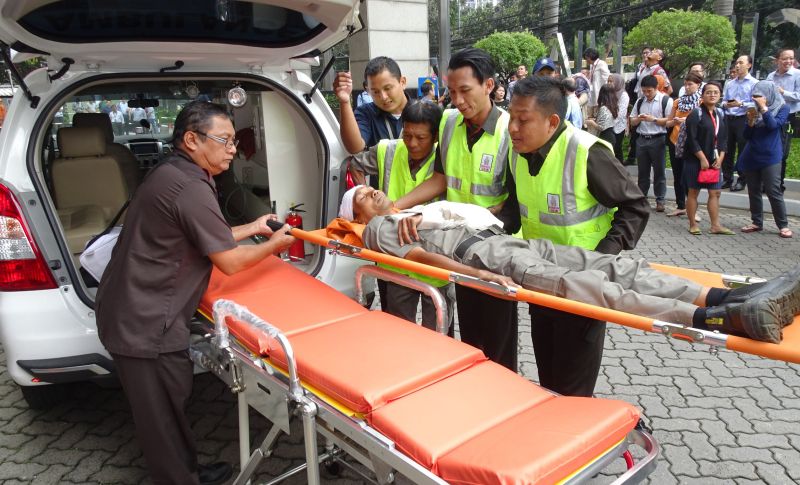 Pada tanggal 9 November 2016 PT. Grahaniaga Tatautama telah berhasil melakukan kegiatan fire drill tahun 2016 di Gedung Graha CIMB Niaga. Dalam kegiatan ini, PT. Grahaniaga Tatautama bekerja sama dengan Suku Dinas Pemadam Kebakaran Jakarta Selatan untuk mengukur kecepatan dan ketepatan waktu tanggap dari Tim Pemadam Kebakaran Gedung (Fire Brigade Team) terhadap adanya nyala api pertama dan juga untuk menilai waktu efektifitas proses evakuasi seluruh penghuni Gedung Graha CIMB Niaga.
Pada kegiatan ini, kami berhasil memenuhi target jumlah tenant yang berkumpul di area muster point sebanyak 50% dari total tenant Gedung Graha CIMB Niaga dengan estimasi waktu latihan evakuasi selama 42 menit menuju ke area Muster Point yang berada di area Lobby Utama Gedung dan area Gate 3 (Sisi akses samping Gedung The Energy).
Oleh karena itu, kami mengucapkan kepada seluruh tenant yang sudah berpartisipas dalam kegiatan fire drill tahun ini. Kami juga sangat mengapresiasi top 5 tenant yang telah berpartisipasi dalam kegiatan fire drill yaitu:
a. PT. Mott MacDonald
b. CIMB Niaga Lantai 11 & Lantai 20
c. ABNR