News
We always collect and report news all around and inside Graha Niaga to keep you update and get closer with us. To learn about us better, take a look at the articles below.
GREEN OFFICE AWARD 2017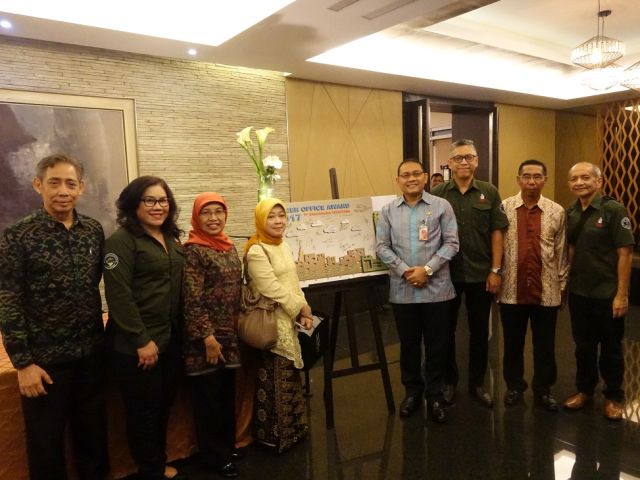 Setelah sukses mengadakan lomba Green Office tenant pada tahun 2016, PT GRAHANIAGA TATAUTAMA ( GNTU) kembali mengadakan lomba ini dengan mengajak seluruh tenant Gedung Graha CIMB Niaga untuk berpartisipasi dalam Lomba Green Office 2017.
Bertempat di Financial Hall lantai 2 Gedung Graha CIMB Niaga, hari Kamis tanggal 16 November 2017 GNTU menyelenggarakan acara GREEN OFFICE AWARD 2017 sebagai apresiasi bagi seluruh peserta dan pemenang lomba .
Direksi GNTU (Direktur Utama Bpk Fakky Ismail Hidayat dan Direktur Keuangan Ibu Tetty Herawati Siregar), Komisaris GNTU ( Bp. Dedi Panigoro dan bp. Adriansyah Hendarmin, Wakil Walikota Jakarta Selatan Bpk H. Arffin MAP, serta Building Manager bp Chairul T. Handinarno memberikan penghargaan berupa Piala bergilir, hadiah dan plakat kepada pemenang lomba GREEN OFFICE AWARD 2017.
Green Office Award 2017 ini melibatkan 56 Tenant Gedung Graha CIMB Niaga atau 100% keikutsertaan di banding tahun sebelumnya yang hanya 16,6 % . Kriteria lomba tersebut antara lain penghematan listrik, air, kertas, kebersihan kantor, dan penghijauan di lingkungan kerja. Penilaian dilakukan oleh juri utama yaitu Bp. Rana Yusuf Nasir ( Core Foubder Green Building Indonesia ) dan Ibu Indarti dari Himpunan Ahli Konservasi Energi Indonesia.