News
We always collect and report news all around and inside Graha Niaga to keep you update and get closer with us. To learn about us better, take a look at the articles below.
Funwalk With Athletes Ke 25 Tahun Graha CIMB Niaga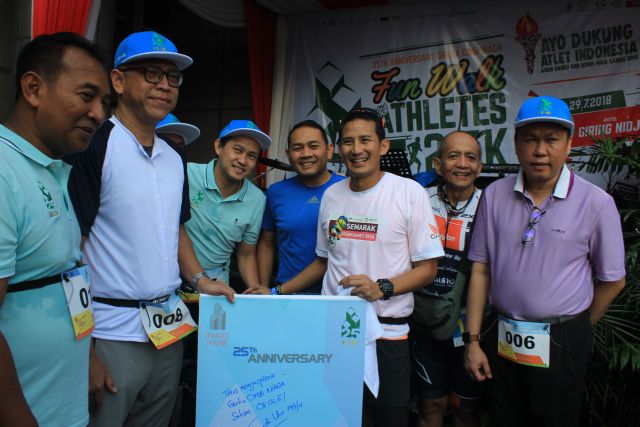 Tanggal 29 Juli 2018 yang lalu, PT. Grahaniaga Tatautama sebagai Pemilik dan Pengelola Gedung Graha CIMB Niaga, mengadakan acara perayaan ulang tahun Gedung Graha CIMB Niaga yang ke-25 tahun yang jatuh pada tanggal 1 Juni 2018.
Pada perayaan ulang tahun yang ke-25 tahun ini, PT. Grahaniaga Tatautama mengusung tema yaitu "Funwalk 2,5 Km With Athletes" sekaligus mengajak masyarakat untuk mendukung atlet Indonesia yang akan berlaga di Asaian Games dan Asian Para Gemes 2018 yang akan diadakan di bulan Agustus dan Oktober mendatang. Hadir saat itu Wagub DKI Jakarta Sandiaga Uno, Wakil Wali Kota Jakarta Selatan H. Ariffin, atlet senior bulu tangkis Icuk Sugiarto dan Candra Wijaya serta atlet Para Games 2018 Guntur.
Acara yang berlangsung meriah ini diikuti oleh 600 peserta berkostum atlet yang mayoritas berasal dari tenant gedung dengan acara puncak hentakan musik dan suara dari penyanyi Giring .